Size chart
.
Determining and choosing the right size can be difficult. We offer various national and international clothing brands at Minis Only. While one brand might show the clothing size in centimetres, another uses age as a guideline. This can be confusing.

LISTING ON WEBSITE
We offer many international brands from Australia, Canada, Great Britain, etc. For this reason, our products often come in sizes which are given in months as well as in Dutch sizes. The months are solely intended for our administration ( as labelled by the brands). You should therefore look at the Dutch sizes; sizes 50 to 140.

BODY LENGTH AS A GUIDELINE
The charts below are intended as a guideline. They give you a general indication of the size for the age and height of babies and children. As each child has its own growth rate, the months are only indicative. The length of the body is a better guideline. You can expect the body length to match the size, the size is given in cm.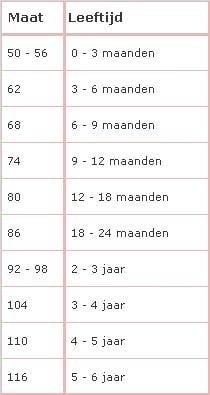 Every child is unique - and so is his or her growth. The age and corresponding size may therefore differ from these charts.

BRAND SIZES
Brands have their own sizes and some brands are a bit smaller and others a bit larger. If we are aware of the smaller or larger size of a particular brand or item, we will note this with the product on our website. Therefore, please read whether there is anything mentioned about the size of each item. 

OUR ADVICE:
Measure the child (without shoes) and choose the size closest to the body height. For example, if your child is 77 cm in length, then take size 80. So, this means rounding it up. It is advisable to choose a larger rather than a smaller size so that the child can grow into it.

You can't figure it out? Please feel free to contact us and we will be happy to help you!